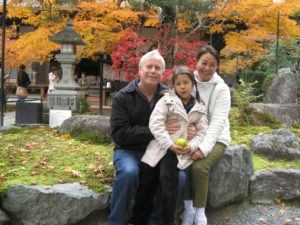 Learn Ancient Chinese  Poetry
Larry Elder was born and raised near Los Angeles in Southern California. He graduated from UCLA with a bachelor's degree in History and Sociology. After some world travel, he began his study and reading of American, British, and English-translated poetry. With the purchase of Sunflower Splendor, a large anthology of ancient Chinese poetry, his fascination of Chinese poetry, literature and culture began.
Larry's work careers have included years working for the federal government and in public education. In 2001 he graduated with a Masters Degree in Speech and Language Pathology from CSU Chico. Since this time he has been a licensed and practicing Speech and Language Pathologist.
Ning Qinzhong (Aling) was born, and spent her early childhood in a small town in Jilin Province, China. She began her formal education and graduated from a high school in the city of Xitang, Zhejiang Province. She then graduated from college with a major in Chinese at the Hangzhou Normal School in Hangzhou, China. Ms. Ning lived for several years in Zhongshan, Guangdong Province. She is fluent in Mandarin, Cantonese, Wuyu, and English.
In 2004 Larry and Aling met in Zhongshan. That summer Larry taught English in the city library, and they were married during this time. They have been translating ancient Chinese poetry ever since. Both Larry and Aling have traveled widely throughout China. They currently live in Southern California with their daughter.
This website is dedicated to bringing ancient Chinese poetry to the modern English reading public. We expect our readers to be both foreign-born Chinese and non-Chinese who want to develop their awareness and appreciation of traditional Chinese literature and art. Along the way, we hope to inform and inspire, not only with the artistic aspects of the poems, but also bring in Chinese visual arts, historical, linguistic, cultural and political contexts, and even some travel pictures. Although discussions, notes and commentaries will be included, this site is not meant to be scholarly. In the end we seek to provide popular and important ancient Chinese poets and poems for your edification and enjoyment.